#meetmycolourcrush : Colour Their Day
Posted on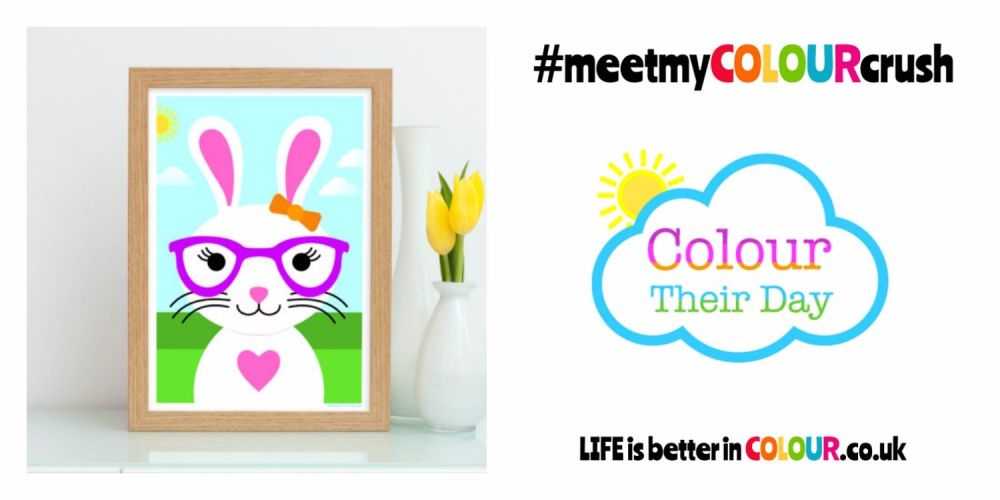 Welcome to the first #meetmycolourcrush blog! As you probably already know, my main mission with LIFE is better in COLOUR is to help make life more colourful. And in order to do that I think it's really important to share my colour-loving friends with as many people as possible!
Today I'd like to introduce you to Andrea from Colour Their Day.
Andrea designs unique, original and personalised ranges of greeting cards, prints and gifts that are bold and vibrantly coloured. These cheerful products will definitely help brighten your day or the day of someone you know!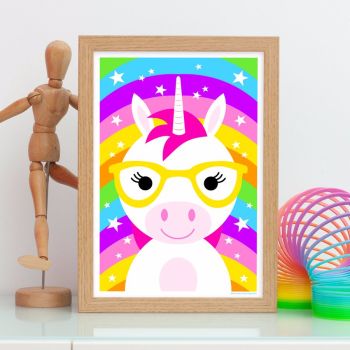 I first found Colour Their Day on Etsy when I was looking for colourful unicorn gifts - and Ursula the Unicorn popped into my feed. After a quick nosey round the shop I knew I needed to find out more so I followed Colour Their Day on Instagram and on Twitter too. As a fellow colour-lover I knew we'd probably have loads in common, so I designed my colour themed questionnaire to find out more!
What's Your Favourite Colour and Why?
"My favourite colour is pink….. oh no orange, or is it yellow or purple….. I don't know, I LOVE them all. But seriously, at the moment it is definitely pink AND orange. This is heavily influenced by my ten year old twin girls and their opposing favourite colours. I cannot choose between one colour or the other, as it would definitely be seen as child favouritism! All new designs I create and any new purchases I make, have to come in a pink and an orange option. It's not like they are the boss of me or anything, honestly!"
How do you choose which colours/colour combinations to use in your work?
"Firstly, I have to try and restrain myself from using EVERY colour in a new design. I then like to try and vary my colour combinations by using complementary colours in some designs and contrasting colours in others. Even if a particular product only has a couple of colours, you will definitely find every other colour used in all the different products in that range. I just can't help myself!"
Have you always used colour in your work?
"From school art class, throughout my Fine Art degree and continuing to my current work, colour has always been the main focus of my work. I have NEVER ever even tried to produce anything in monochrome, I just don't think I can do it. That would definitely be a big challenge!"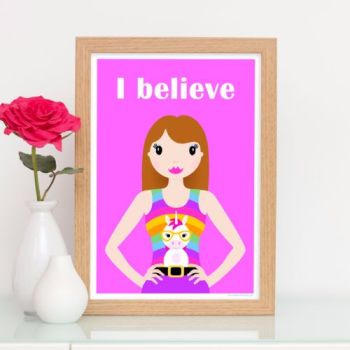 What's your favourite item that you currently sell - and why?
"At the moment, my favourite item that I sell is my unicorn print. I am particularly pleased with it as it includes many of my favourite things; all the colours of the rainbow, a cute unicorn (yes it's true, I do believe) and a little bit of sparkly magic. It also has a little bit of myself in it - a huge pair of glasses."
Who or what gives you colour inspiration?
"I get my colour inspiration from all around me; wherever I go I am drawn to vibrant colours, like a magpie is to a shiny object. Whether I'm out and about or at home, browsing books or the internet, I seek out vivid colour palettes and combinations to inspire my own colourful creativity."
Can you recommend any colour loving people for us to follow on social media?
I love following: @pineapple_retro1 for her fab vintage finds, @iamacrylic for their gorgeous vibrant jewellery, @becky_baur for her fantastic colourful illustrations, @nerd_that_draws for her fun garlands and jewellery.
What's your favourite hashtag?
"My favourite hashtag is #pinkfluffyunicornsdancingonrainbows but unfortunately I don't get to use this often enough! My favourite colour inspired hashtag is #coloursplash "
How colourful is your day to day life outside your business?
"I like to surround myself by bright colours in my day to day life. Like my work, each room of my house is full of colour, in fact throughout my home you will find a room of EVERY colour. I'm currently redecorating the whole of my ground floor, which is providing me with a great excuse to fuel my colour addiction.
In my spare time I love to colour in one of my numerous colouring books or make lists in one of my many colourful notebooks. Yes, my secret is out....as well as being addicted to colour, I am also a #stationeryaddict "
Well, it looks like I was right - Andrea and I do seem to have a lot in common - including a love of stationery, a fondness for pink and orange and thinking that the awesome unicorn picture looks just a little bit like a self portrait!
If you'd like to send a BIG splash of colour into your life, (or of someone you know) you can now use the code coloursplash to get 15% discount on all Colour Their Day website and Etsy orders!
You can find Andrea featured in all of the following places:
Website: http://www.colourtheirday.com/
Etsy: https://www.etsy.com/uk/shop/ColourTheirDay
Instagram: https://www.instagram.com/colourtheirday/
Facebook: https://www.facebook.com/ColourTheirDay/
Twitter: https://twitter.com/ColourTheirDay
Save