Crafting a brighter future - Switching to Recycled Toilet Paper
Posted on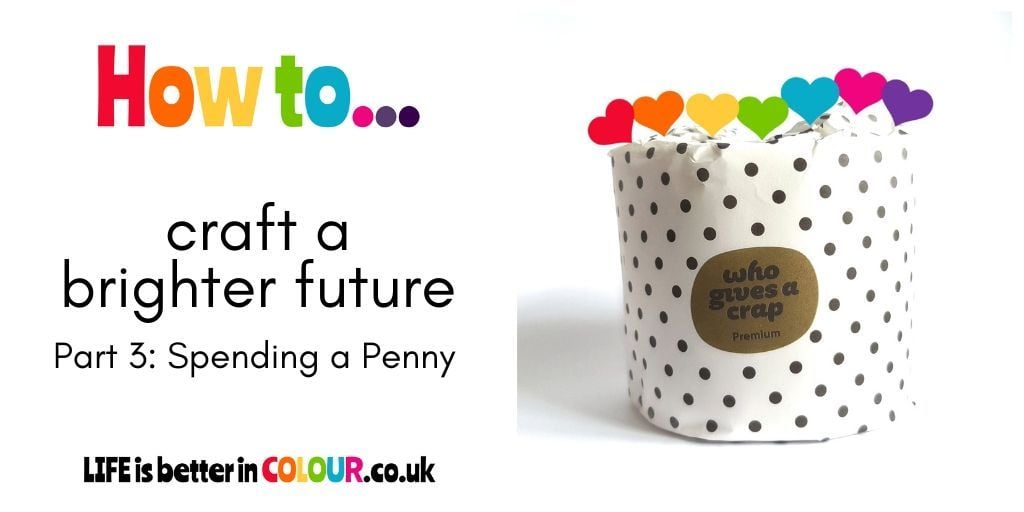 A blog about using the bog...
Hello my colour loving friends! Just to warn you, this post is a little different to my usual topics and definitely far less colourful. But that's OK, because sometimes things are just black and white.
Our planet is heading for a climate catastrophe and collectively we need to do everything we can to be as environmentally conscious as possible. Making large scale changes to our lifestyle can feel overwhelming, but if everyone started off by committing to one small change, we'd be well on our way to crafting a brighter future!
The first small change I'd like to introduce you to happens in the smallest room in the house...
I wonder whether I can encourage you to switch to recycled toilet paper?
So let's get down to the bottom of the matter…
Worldwide, it's estimated that we use 27,000 trees worth of toilet paper every day. But keeping your bum clean really doesn't need to be at the expense of the environment. Who Gives A Crap are an awesome company who supply recycled and premium bamboo toilet paper, tissues and paper towels.
As well as being forest-friendly, these products have an even greater positive social and environmental impact. All items are ink, dye and scent free, are individually wrapped in pretty paper packaging to avoid the use of plastics, and 50% of profits are donated to charitable organisations working to improve access to hygiene, water and basic sanitation in developing countries.
All products are delivered straight to your door and come with a 100% money back guarantee, and provided you spend over £20 delivery is free!

Having sampled all of the products in the range I have to admit to a preference for the Premium 100% Bamboo Toilet Paper. And whilst I'm not entirely sure it lives up to the claim 'it's like wiping with clouds' it definitely feels more luxurious than any other eco-friendly toilet paper I've tried! If you're used to wiping your bum with plush quilted paper as thick as a duvet, then yeah, I guess you'll notice a difference - but the 3 ply bamboo sheets are at least equal to other bog standard rolls. The environmental credentials for this product are spot on and the paper packaging is just so pretty. I love the convenience of ordering in bulk, and the reassurance that I'm never gonna run out.
As for the cost. I've never sat down and worked out what I spend on toilet paper in a year (have you?) but I don't think that this recycled option works out much more expensive. And even if it did, I think it's a small price to pay to know that I'm helping save the earth every time a spend a penny!
So my friends. That's my review of Who Gives A Crap Toilet Paper. I hope it's enough to encourage you to consider taking a look at this lovely loo roll. But just in case you need a little extra persuasion to start a new planet friendly habit, how does £5 off your first order sound?
This seems like an appropriate time to mention - this blog post is not a paid advert. All views are entirely my own and I sincerely hope you voluntarily want to make the switch to sustainably sourced toilet paper. But it doesn't hurt to have an economic as well as environmental incentive...
If you think you'd like to try making the switch to environmentally friendly toilet paper, please feel free to use my 'Refer A Friend Code' as a little reward.
https://www.talkable.com/x/Q7IFmf
Just so you know, using this link will get you £5 off your first order from Who Gives A Crap, and once you have made your first purchase, £5 credit will also be added to my account!
Do drop me a comment if you think you're gonna make the switch, or have tried this toilet paper already - I'd love to hear what you think.
PS - I've got lots of other easy environmentally friendly ideas to share, so watch out for another blog post soon