Find a Rainbow Day! My favourite colourful finds
Posted on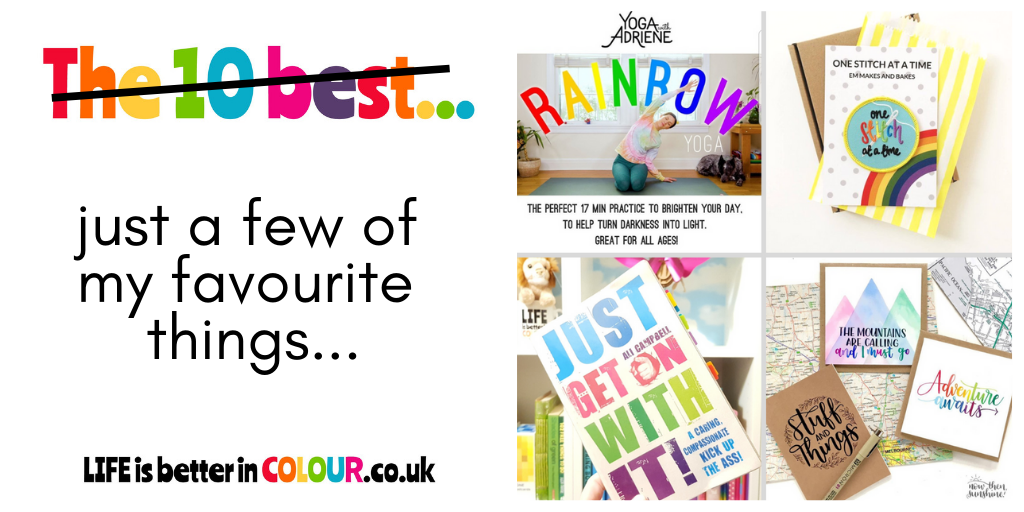 A FEW OF MY FAVOURITE THINGS…
I haven't done a favourite finds round-up for ages, so I thought I'd create a post that collects together all of the colourful things that have caught my eye over the last few months. And as 3rd April is National Find a Rainbow Day, instead of restricting myself to one theme or topic I thought it would be fun to give myself free rein to share anything and everything - so long as it was colourful!
Because we all know that #lifeisbetterincolour
So here's some of the beautiful and brilliant things that have been brightening up my world.
WHAT I'VE PURCHASED
I'm rather partial to collecting colourful pin badges but since I stopped purchasing a monthly #paydaypin I have been indulging in the occasional patch instead! I find a very basic backpack is definitely brightened up by the addition of a few pretty patches… and the latest one I've fallen in love with is from EmmaMakesAndBakes. There are now limited stocks left of the rainbow 'One Stitch at a Time' patch so you'll have to be quick if you want to get your hands on one!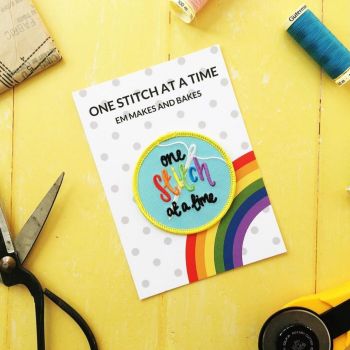 ON MY WISHLIST
Finding bright and cheerful clothes for adults used to be quite difficult, but recently there has been a definite trend towards curating a more colourful wardrobe. Head over to any of the 'High-Street's' online shops and type in the word 'Rainbow' and you'll find a huge choice of clothes and accessories for colour lovers of all ages! But the piece I wanted to share with you today was this cheerful merino blend jumper from Boden. Even in the sale it's a little out of my budget, but that hasn't stopped me adding it to my wishlist (or my Colourful Clothing Pinterest board!)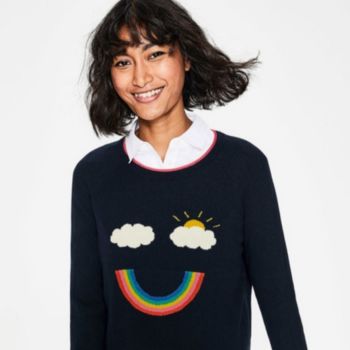 WHAT I'M LOOKING FORWARD TO
As you may know, I sell my work in Our Handmade Collective in Leeds - a small, independent gift shop that also runs regular creative craft classes. There have been lots of new sellers joining the team recently - including Now Then Sunshine. Not only has she bought a fantastic selection of colourful modern calligraphy to the shop, but she has also been persuaded to share the secret to gaining her awesome skills! I'll be attending a class in June to learn my letters, but if you're interested in having a go, there are still a few places left on the festive themed workshop in October. Visit the OHC facebook page for more details of all their craft workshops - including my annual Rainbow Paper Notebook class!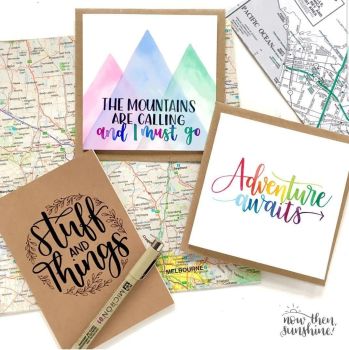 KEEPING ACTIVE
Last November I started practicing yoga at home via the Youtube channel Yoga with Adriene and I cannot begin to tell you how amazing I have found it. Any of her online sessions would be worthy of sharing, but I thought this Rainbow Yoga video would be most appropriate for today!
WHAT I'M READING
Over the last few months I've been reading a lot more - a few bits of fiction, but mostly memoirs, business books and 'self-help'. On the bedside table at the moment is Just Get On With It by Ali Campbell *
- which is described as "A book about you helping yourself live the life you've always dreamed of."
As you can probably guess from the title it has a no nonsense style and I'm really enjoying how, as you progress through the book, you learn to listen to your inner wisdom and find answers to your own questions. The subtitle really has got the right idea - if implemented properly, this book will give you a caring, compassionate kick up the ass!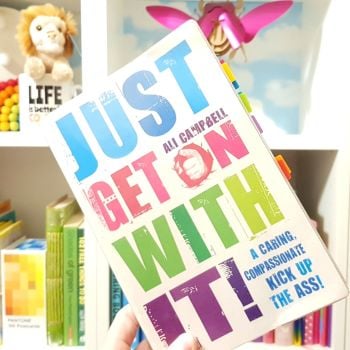 WHAT I'M WORKING ON
I've been looking for a few rainbows of my own, and I'm pleased to say I think I've found some! It all started with the Rainbow Ribbon Shooting Star Brooch and since then I've got a little bit obsessed with rainbow ribbons... A selection of new designs will be launched very soon, but for now, here's a sneak peek at my favourite - a unicorn brooch with rainbow wings! I've popped this into the shop already, but make sure you sign up to the Colour Club newsletter for official launch day discounts!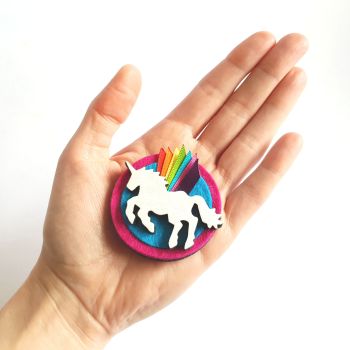 I hope my quick rainbow round-up has given you some inspiration for Find A Rainbow Day!
Wishing you a colourful week!
Disclaimer: I have not been sponsored to write this post and all of the items are my personal recommendations. However, this post does contain some affiliate links. Within this post they are marked with an * As an Amazon Associate I may earn a small commission if you use my link to click through to their website and make a purchase. It doesn't cost you anything and helps to support this website.