My #PayDayPinBadge Collection
Posted on
Back in January 2017 I started collecting enamel pin badges - but to make sure my collection didn't get out-of-control I decided to limit myself to only one new pin badge purchase per month. So did I manage it? Check out my #PayDayPinBadge collection to find out...
With so many amazing pin badges on sale I thought it would be really hard to stick to my quota - but whilst I was incredibly tempted by lots of different designs, knowing that I could only choose one per month made sure I didn't splurge on random impulse purchases.
My ultimate aim was to cherry-pick the very best badges so I would end up with a quality collection that I could cherish. As you'd probably expect a lot of my picks were colourful pin badges - and I have to say, rainbow is a theme that will always catch my eye!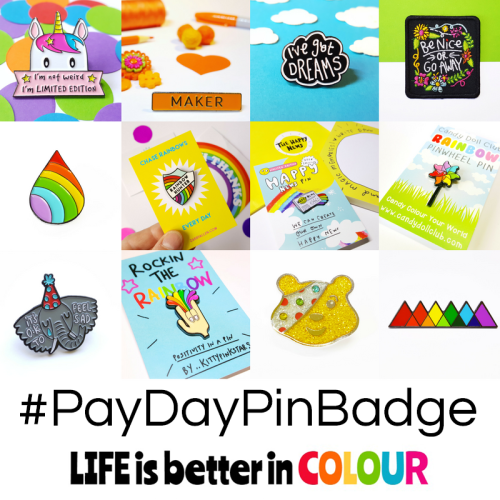 TOP ROW, L to R: BoxMonsterDesigns, Angharad, OutlawsAndSkeletons, KatieAbeyDesign
MIDDLE ROW, L to R: SparkleHappyMama, ZabbyAllen, EmilyCoxhead, CandyDollClub
BOTTOM ROW L to R: KatieAbeyDesign, kittypinkstars, Children In Need, reegraphic.com
The eagle-eyed amongst you will notice that the entry for April is actually a patch not a pin. what can I say - I'm easily distracted!
But the most interesting thing I have noticed as I look back over the whole collection is that many of the badges also carry a little bit of autobiographical baggage - gentle reminders of what I was doing, thinking or feeling at the time I bought them. In March, just before we launched our website I picked the 'I've Got Dreams' badge. In August as a reminder of fun filled holidays I purchased the rainbow pinwheel - which actually spins! September's badge was a tangible reminder of a message I needed to be re-told.
It's these little stories that make my super-small collection even more special.
The question I'm asking myself now, is do I continue? Should I keep adding more badges to my pinboard every payday? Or can I be trusted to add an additional badge to my collection on an ad-hoc basis?
Mmm... decision time! But whatever method I choose I know I've already got my eye on my next pin!
And if you want to join in on social media just tag your pics with #PayDayPin and #PayDayPinBadge