2017 - Living a more delightful life
Posted on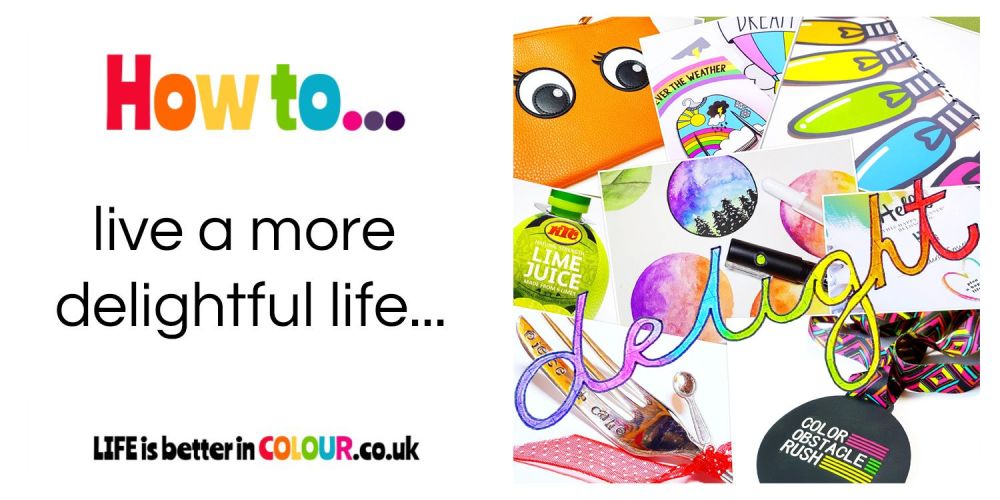 Back at the start of 2017, before I'd finished rebranding the business to LIFE is better in COLOUR, I wrote a blog post on my old website about choosing my word of the year. After never holding much hope for resolutions, I thought that choosing a special word to live by might just have a little bit more meaning...
I wanted my word to be something that would help me focus on getting the right balance between paid employment, self employment and self care.
Initially I thought I'd need a word that was organised and efficient but after a lot of soul searching I realised that my word needed to be less instructional and more empowering! Working through the 'Find Your Word 2017' course by Susannah Conway definitely helped to narrow things down, till I finally chose my word...
DELIGHT
To please greatly, take great pleasure in, to charm
Associated words:
Pleasure, happiness, joy, gratification, excitement, amusement, luxuriate, relish, savour
And from that I came up with a new tagline too: "Find joy in small things"
So how did it go...?
Did I manage to find delight in all elements of my everyday throughout 2017?
Well - overall, I don't think I did too bad! There were many #ReasonsToBeCheerful in 2017 but on reflection I think the most important thing I learnt from the year was that it's OK to spend a little more time and a little more money on the things that make life happier or easier (no matter how mundane!)
Here's a quick list of some of the things that pleased me greatly in 2017:
Buying myself occasional 'just-because' presents like the googly eyed make-up bag. This lives in my handbag and makes me grin EVERY SINGLE TIME I see it!
Starting a new pin collection added extra colour into my life and allowed me to support fellow designer makers at least once a month
Doing more activities just for the fun of it... During 2017 I learnt how to stamp spoons at Our Handmade Collective, took part in the awesome Color Obstacle Rush in Sheffield and had fun playing with watercolours after watching some Jen Aranyi videos on Instagram
Paying for goods or services that make my life easier: Hello internet food shopping, goodbye trolley rage! And do you know how much crispier things cook when you've bought an expensive baking tray?
Learning to prioritise the value of items above their cost. For years I have lived frugally and have always (often out of necessity) had to focus on the most inexpensive options. But this year decided to focus more on buying the best I could afford rather than the cheapest. But this didn't necessarily equate to buying the most expensive either... Under this category I purchased a Kipling purse with the perfect number of pockets that cost more money than I'll ever have inside of it, bought lime juice in a lime shaped bottle, treated myself to a pair of FLY boots that have been on my wishlist since I was a student (which is far longer ago than I care to mention!) and finally found planner happiness with a MAMBI Happy Planner

But did I succeed in getting a better work/life balance in 2017? Did I spend enough time on self-care...
Well, like many self-employed creatives, this is an area where I do struggle. There have definitely been some improvements - scheduled time-off, open discussions with line managers about work-load and managing mental health, clearer organisation of time, small pockets of creating for fun and ultimately the avoidance of complete burn-out!
But I still feel that there's room for improvement... I may not have gotten completely burnt out but there were times when I felt more than a little frazzled!
So my conclusions about 2017?
Practising gratitude and finding joy in SMALL things has become a new habit that I hope to carry with me always... learning to find joy in ALL things. Well that may take a little more practice!
Wishing you all a colourful start to the New Year.
Laura x
Check out my Word of the Year 2018 post to see which word I chose!