Perfect Packaging
Posted on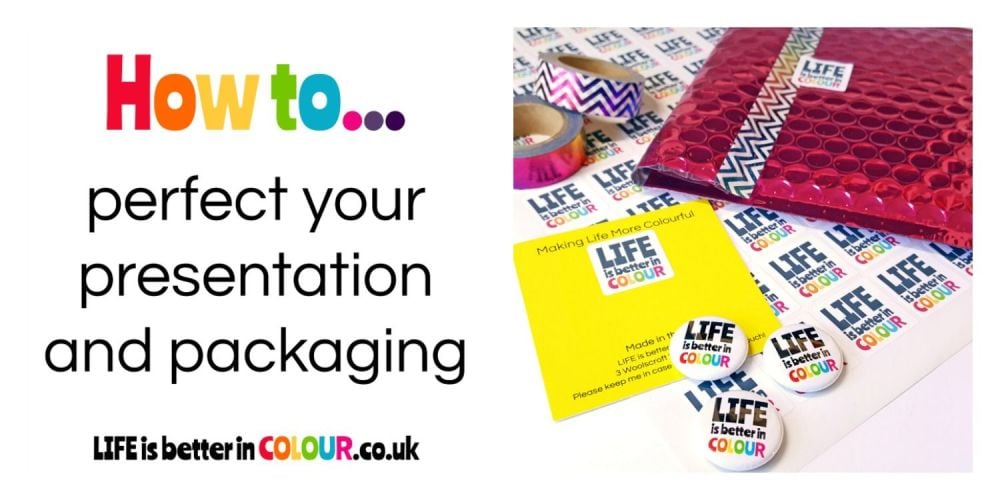 One of the best things about starting a new business from scratch is that it really gives you the time and space to think about EVERYTHING that goes into making that business successful.
Perfecting your packaging and presentation is a great way to promote your brand and make sure that receiving a parcel is a pleasant experience for your customers.
But achieving the perfect parcel is more than just pretty presentation. Lots of different things need to be deliberated before a final decision is made - and I thought it might be interesting to show you some of the stationery items that I've selected and share the reasons why they got picked!

Branded Badges
It all started with the badges. I knew I wanted to sneak a little treat into every parcel and these little button badges made for me by Awesome Merchandise seemed like a great solution. Cute, colourful and a great way to make sure my logo and mission statement is clearly communicated. (And everyone likes a freebie - right?)
Creative Cards
Nearly all my brooches and badges need to be displayed on some kind of backing card. Buying in bulk from Solopress means I can keep the costs down. But placing an order for hundreds, sometimes thousands of cards can sometimes seem daunting! To make sure I get the most out of my order I deliberately design the cards so they can double up as header cards. gift tags, business cards and note cards too!
Exciting Envelopes
It's really important that all orders arrive intact and the role of outer packaging is to ensure that everything stays safe and secure... coloured foil bubble wrap envelopes are pretty and practical and make sure your items stay well protected when they're in the post. (And once they've arrived you can really easily peel off the labels and then they're ready to re-use, ramping up their environmental credentials!)
Gorgeous Gift Boxes
It has taken a lot of research to find the perfect gift box. There are so many things to consider! Colour, shape, size, weight, and most importantly how much does it cost to post! I finally found the perfect fit from the extensive selection available at Westpack.
Sensational Stickers
Labels are a lovely way to add your logo to lots of different things - and can be used alongside many of the other items on this list to create a pretty and practical branding solution. However, many of the big print companies charge a fortune for small print runs of stickers. So the solution is to source your stickers from smaller, local suppliers. All my stickers have been printed by JensLittleT
Wonderful Washi
Washi tape is an inexpensive way to add instant colour to your packaging and when I came across this tremendous tape sold by Unwrap Colour it was too good to resist. Rainbow coloured AND shiny. RESULT!
Want a closer look?
Then head over to our online shop and pop something in your basket!*
*Our online shop will open on Friday 31st march 2017. If you'd like to receive early-bird notification and opening-day discounts, sign up to our newsletter here!
Save
Save
Save
Save
Save