Book Review - 'Happy' by Fearne Cotton
Posted on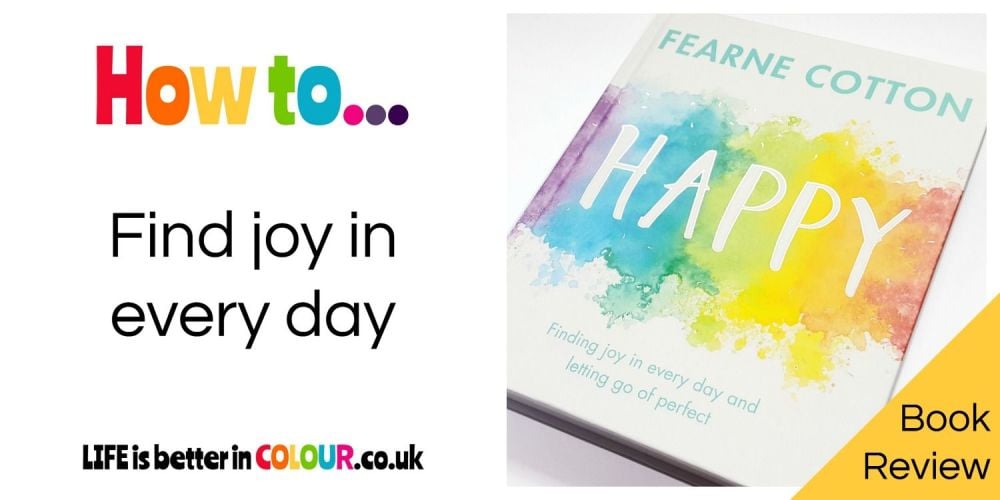 Today we're reviewing a copy of Fearne Cotton's Happy: Finding joy in every day and letting go of perfect
I've been wanting to blog about this book for a while - but with #MentalHealthAwarenessWeek just finishing, I thought now would be a very good time to get round to writing a review!
Firstly, the aesthetics...
I'd like to start by saying - this book is gorgeous. My very first glance at the rainbow watercolour and silver foiling on the front cover confirmed that this book was going to be good quality. Not too big and not too small, this perfectly sized hardback book contains 273 pages filled with beautiful paintings and illustrations - many of which have been drawn by Fearne herself.
The use of the pastel rainbow colour palette is sympathetically used throughout, with each chapter utilising a different colour for all it's headings and diagrams. The paper used inside the book adds to the aesthetic appeal and really shows off the illustrations to their best. (It's lovely and thick, in a bright (but not dazzling) white with a very subtle sheen)
The text is printed in a modern sans serif font which is clear and easy to read, but possibly just a little bit too small for my tired eyes to be reading at bedtime! The main body text is neatly set out with plenty of space around the page edges, adding to the relaxed and luxurious feel of the book (and perfect if you're a fan of adding additional marginalia!)
But in the interests of an honest review before I thought it only fair to point out the few things that I found frustrating regarding the overall design and my potential future enjoyment of the book...
Throughout the book there are several 'asides' where space is given for interactive activities or exercises. These areas in the book are signified by a soft grey dotted outline. For me, this does not differentiate enough from the main body text and led to a number of confusing episodes where I tried to read on from the bottom of one page to the top of the next, only to find that the next page was actually one of these 'asides'. In the scheme of things, it really isn't a big deal, but on a personal note I found it reduced my reading enjoyment, as each time it happened it felt like a rude and inconvenient interruption!
The second main issue relates to the way chapters are handled in the book. Whilst it is true that each individual chapter/theme is indicated by the use of a different colour, the changes between each of the colours on the pastel rainbow can be too subtle to miss. For a reference book - especially one with interactive activities that you may wish to return to - I found it quite frustrating that there was no contents page, no clear chapter breaks and no index.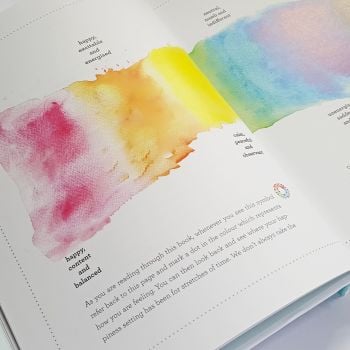 The contents...
Part celebrity autobiography, part self help guide, 'Happy' by Fearne Cotton is a great introduction to mindfulness techniques and ways to change your perspective to help focus on the positive.
The book is split into 12 chapters, plus an introduction - with titles such as 'Happy Now', 'Happy Choices', 'Happy MInd' and 'Happy Families' with the content of each chapter loosely themed to fit in with the title. In each chapter Fearne shares personal stories of her struggles with depression as well as offering advice on how to deal with negative behaviours and emotions. The autobiographical elements of the book are not chronological, so it would be easy to return to the book at a later date if you wanted to re-look at a particular topic.
Every couple of pages there is space for reflective practice where you are guided to consider potential changes in perspective to help improve your outlook. Many of these exercises ask you to respond creatively - as well as writing you are encouraged to complete tasks by doodling, colouring, visualising and listening to music. I really liked the happiness barometer on p38-39 and the self love visualisation on p257
In addition to the creative tasks, there are also a few physical and practical suggestions in the book. The 'Happy Mind' section contains a couple of recipes and there's a really nicely illustrated yoga sequence in the 'Happy Body' section.
The book also contains conversations with Fearne's family and friends as well as lots of references to her celebrity chums - not at all unexpected given that this book is autobiographical! But because the writing style is so open and casual there are very few instances where this feels like deliberate name-dropping.
The verdict...
This book is a beautiful and uplifting guide to feeling good. It blends personal experience with practical support in a way that is both informative and accessible. Fearne's writing is homely and heartwarming, offering gentle encouragement to find the joy in every day.
If you're looking for a gutsy, warts and all, eye-wateringly honest account of mental health then this isn't the book for you ...But if you're not familiar with mindfulness techniques, and/or are looking for suggestions to help manage your mental health - then this book will be an amazing introduction to the power of positivity.
Disclaimer: I have not been sponsored to write this post and I paid for my review copy of this book. However this post does contain affiliate links. As an Amazon Associate I may earn a small commission if you use my link to click through to their website and make a purchase. It doesn't cost you anything and helps to support this website.