#meetmycolourcrush : Made In Ashford
Posted on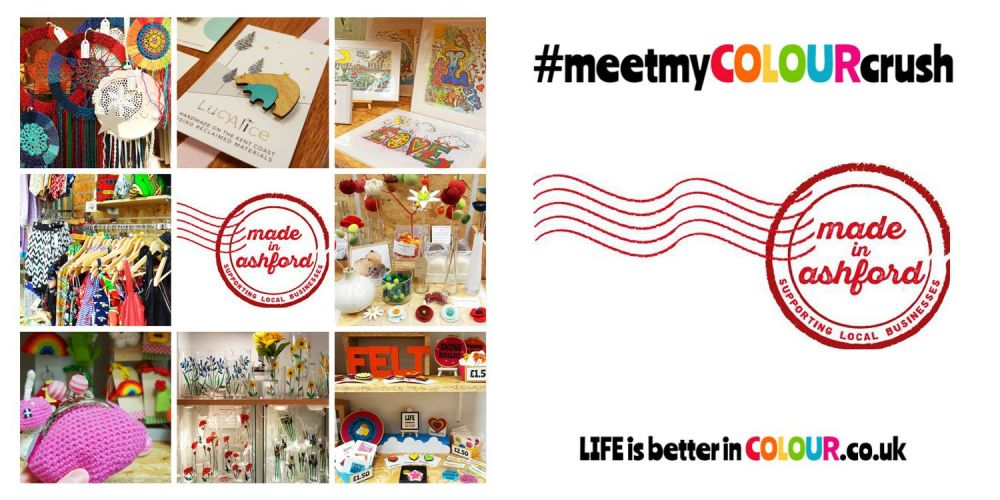 Today's meet my colour crush blog is slightly different to usual... instead of introducing you to one of my favourite colourful creatives, I'm going to share a whole shop full of them!
Made In Ashford is a small business shop share based in Park Mall in my hometown of Ashford Kent. It is full to bursting with colourful work from lots of local artists and designers - and it also happens to be one of my stockists!
More information about the shop (as well as the full list of creative businesses that sell there) can be found on the Made in Ashford website, but for now, here's a few pics of some of my favourites!

Left: Aye Aye, Centre: Mulberry Glass Art, Right: Gracefully Boho

Left: Somnus and Seb, Centre: Lucy Alice, Right: Victoria and Robbins
I love this colourful shop and always find it hard to leave without purchasing something! (I'm particularly partial to the work of Somnus and Seb and own both a lavender stress ball keyring and a lavender and hop sleep stone) Melissa from Aye Aye is the manager and she carefully curates the collection of sellers so that there is always a fantastic selection of work on display. With more than 30 sellers in store currently, you'll be sure to find something special - Clothing, jewellery, glasswork, homewares, art, cards...
If you'd like to take a closer look at the most colourful shop in Ashford, the store can be found at 26 Park Mall, Ashford, Kent TN24 8RY. The shop is open 10am till 5pm every Monday to Saturday.
The shop also has a strong presence on social media:
Facebook - https://www.facebook.com/madeinashford
Instagram - https://www.instagram.com/madeinashford
Twitter - https://twitter.com/made_in_ashford
And throughout February, many of the sellers will be using the hashtag #FreelanceFebruary to meet, network, and share photos of their life and work. So if you fancy getting a peek behind the scenes check out the hashtag to see what goes on in the life of a creative freelancer!