12 great gifts for colour lovers
Posted on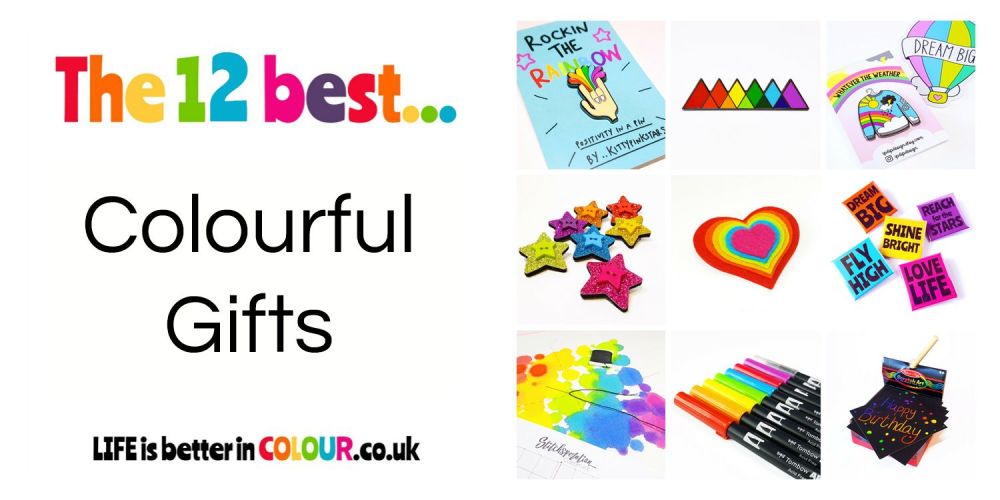 It's not just Christmas gifts that get to be merry and bright! We're here to prove that it's easy to make all gift giving more colourful!
In this colourful gift guide we'll be sharing 12 of our favourite finds that would make the perfect present for a colour loving friend.
Pretty Pins...
Enamel Pin Badges are very popular right now, which means there's plenty of colourful ones to choose from! And with prices starting from around £5 this is a colourful gift option that won't put a strain on your purse!

LEFT: Kittypinkstar Rainbow Pin, MIDDLE: Reegrapic Spectrum Pin, RIGHT: IpDipDesign Sweater Weather Pin
Get Creative...
In our experience, colour lovers are often also quite creative - so why not get them a crafty gift that gives them something to do!

LEFT: Stitchsperation Custom Cross Stitch Kit, MIDDLE: Scratch Art Notecards, RIGHT: Towbow Dual Brush Pens
Shop Local...
Rather than relying on the wonders of the internet, why not take a wander through your local town and see whether there are any cool indie gift shops selling colourful gifts. Here's just a small selection of what we found at Our Handmade Collective in Leeds.

LEFT: Little Magpies, MIDDLE: Jil Made This, RIGHT: The Happy Button
LIFE is better in COLOUR...
Or if you're serious about finding a colourful gift, then you can't go far wrong by checking out our shop! We specialise in colourful gifts and accessories that are designed to brighten up your life without breaking the bank... our Words To Live By Badges start at just £1.50!

LEFT: Sparkly Star Brooch, MIDDLE: Rainbow Heart Brooch, RIGHT: Words to Live By Badges
We hope you like our selection of gorgeous gifts for colour lovers - if you want to stay informed about all our colourful new arrivals make sure you Join the Colour Club for regular email updates!