10 rainbow coloured necklaces you'll find it hard to resist!
Posted on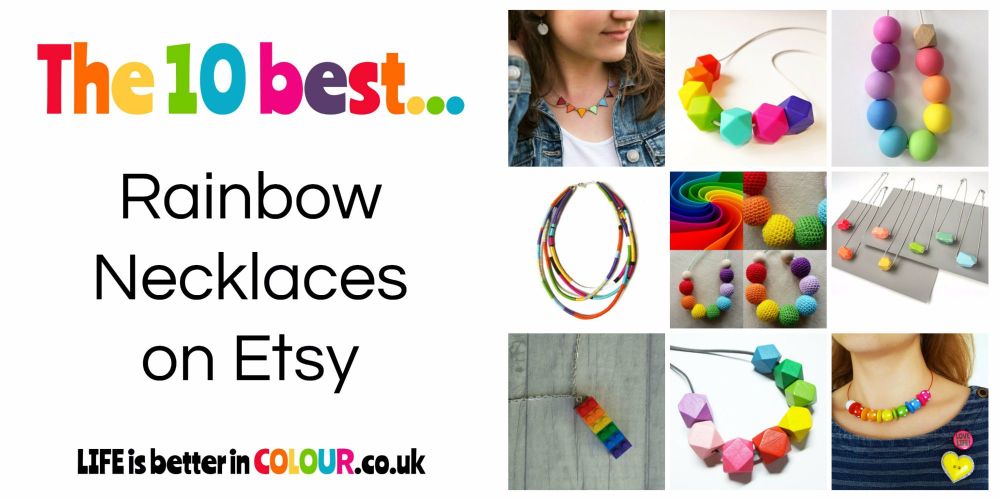 As you could probably already guess, I'm a bit of a fan of colourful jewellery - but my fascination with rainbows didn't start until Little Magpies joined the sellers at Our Handmade Collective in Leeds. Her colourful baby-safe silicon beads were displayed right by the door, and after a few visits my will-power was weakened and I placed a request with Natalie for a custom coloured rainbow made from rhomboids of rubber!
I love my necklace and often get complimented when I'm wearing it - which is a lot because it's rainbow coloured so goes with everything!
As I'm in the business of trying to make life more colourful I thought it would be a nice idea to share some of my favourite rainbow coloured necklaces available on Etsy to encourage you all to rock some rainbow accessories!
Because #lifeisbetterincolour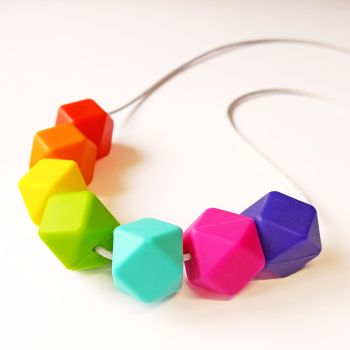 LittleMagpies gives you the opportunity to design-your-own colourful necklace from a pick-and-mix selection of baby-safe silicon beads. This would make a great gift for a new Mum - but is an awesome accessory even if you don't have kids!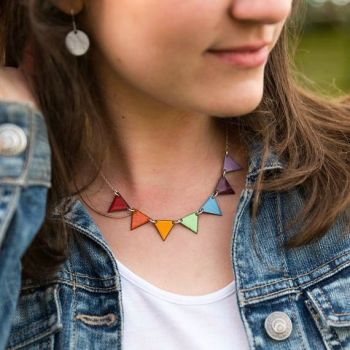 This beautiful bunting necklace is one of iamrachelshop's absolute bestsellers - and I can see why! Featuring seven equilateral copper triangles each fired with a vibrant enamel colour, creating an awesome rainbow effect.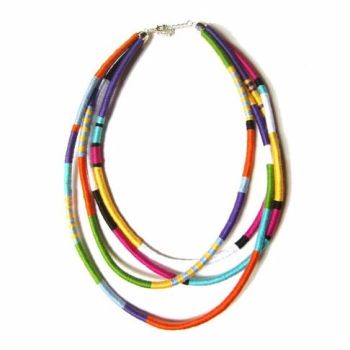 This stunning, made-to-order African tribal style statement necklace would definitely help you stand out from the crowd! Available from Jewellery by Jora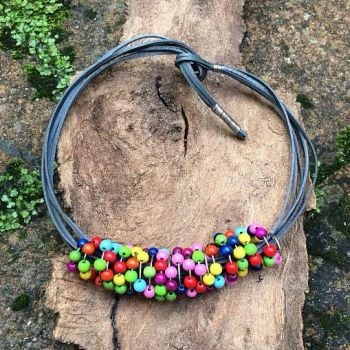 This colourful necklace has been made by andreamcshanedesign and is available from Etsy. I love how the wooden beads are another wonderful way to create a wearable rainbow.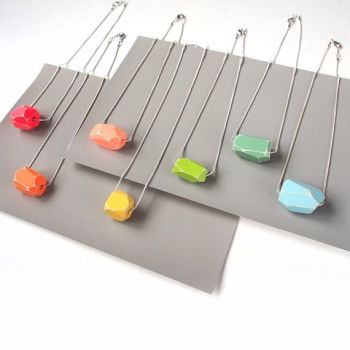 Life would be anything but grey if you were wearing one of these geometric jewels by grayjaystudio Each of the clay beads is sculpted and painted by hand so each necklace is entirely unique!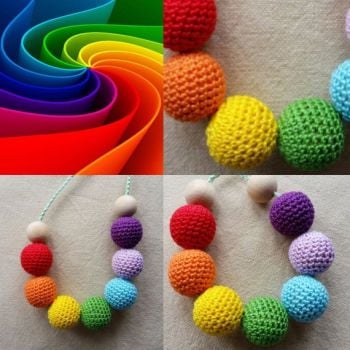 If you like your beads to be bold, as well as super soft, then try this colourful crochet necklace by DillyDillyBoutique. As well as being absolutely terrific, it also doubles up as something for teething babies to chew on!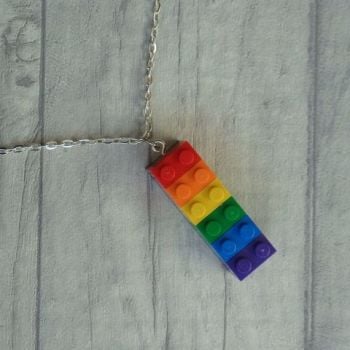 I'm totally in love with this lego necklace by MooseintheMint. A beautiful rainbow necklace made from building blocks. Such a simple idea, but oh so effective!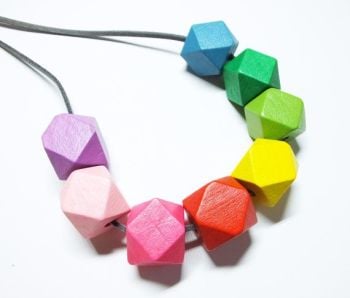 This rainbow coloured wooden bead necklace from TheMountainAndMe would make the perfect gift for colour lovers - and it's perfect for anyone with metal allergies as both the beads and the thong are totally metal free!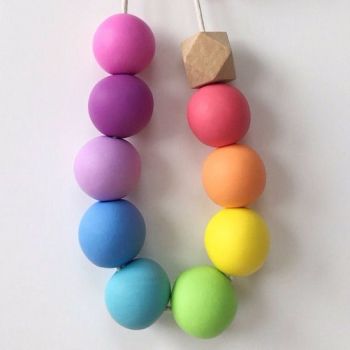 I'm usually a fan of bold, bright rainbow colours, so I was surprised with how much I loved the pastel palette used on this polymer clay necklace by BeadBoxJewellery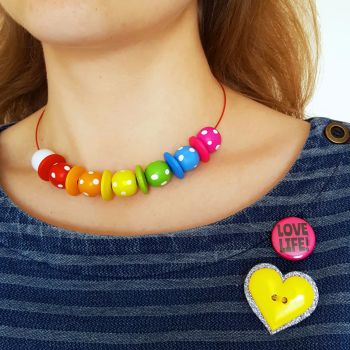 All those rainbows were very inspiring - so much so that I had a go at designing my own rainbow necklace! It's available on a variety of different coloured choker wires and you can remove the beads to make many different colourful combinations! Grab your rainbow beads from my Etsy shop
So, that's wraps up my Favourite Finds list for today!
I'm going to add all of these to my Colourful Jewellery and Accessories Board on Pinterest - which gets updated all the time - so if you'd like to see even more colourful jewellery I suggest you pop over there and give me a follow!
Also - please feel free to let me know in the comments below if you've found some fabulous colourful jewellery that you think I'll like!