Book Review - 'Sunny Side Up' by Susan Calman
Posted on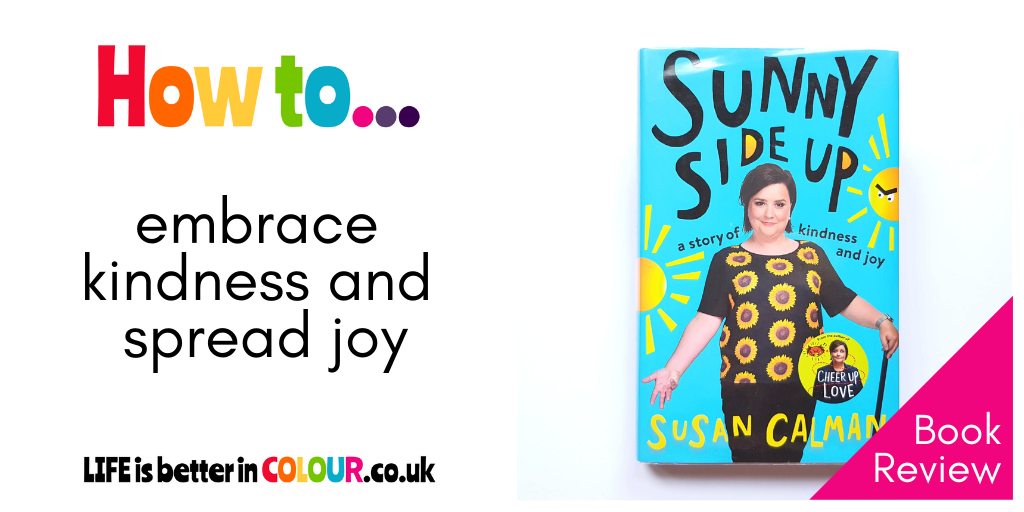 Wouldn't the world be a better place if we all took a little time to spread more joy? That's the premise of Sunny Side Up, the latest book from Susan Calman
. Such a simple idea, but one that comes up against significant opposition... This book will help to teach you not to be one of life's lemons.
Read my full review below:
Title: Sunny Side Up: a story of kindness and joy
Author: Susan Calman
Category: Humour, Memoir, Mental Health
Favourite Quote: "Don't be ashamed of what makes you happy. Don't let others ruin your joy by making what you like seem unworthy of appeal. And if you are a lemon, stop ruining people's fun."
Susan's latest book is a personal quest to persuade people to embrace kindness and spread joy. Part memoir, part practical self help guide, the book is filled with anecdotes from Susan and ideas from the audiences at her comedy shows explaining just how easy that can be.
The book is written in a warm and witty way (and whilst I'm sure audio versions of the book are available) her written voice is so strong that it's as if Susan is sitting there with you narrating directly inside your head as you read!
The book features a lot of references to Susan's appearance on Strictly Come Dancing and the life changing effects of what can happen when you choose to step outside of your comfort zone. Her passion for "having fun, lightening up and feeling the absolute rush of excitement that can come from true happiness" really does shine through the entire book.
I enjoyed this book for so many reasons.
The hardback copy of the book I've got is a cheery yellow with a colourful dust jacket making it the perfect prop for Instagram photo!
The book is split into 21 easy to read chapters with quality paper and nice large typeface which means my tired eyes are given a break at bedtime!
The illustrations from Ben Summers that break up all of the sections are super adorable. And who doesn't like a book with pictures in?
You don't need to have read her first book or be familiar with her work on TV and radio to enjoy this one.
The anecdotes are homely and down to earth, focusing on things like the weekly food shop and putting the bins out
There are so many more reasons why I love this book. But I've run out of time to write. Because it's Sunday and one of the things that brings me absolute joy is my routine of always spending the afternoon snuggled up on the sofa. So instead I'll leave you with a few lines from the epilogue summing up what this book is all about...
"Small things. Tiny Pockets of joy. Remembering kindness. Being nice. It's simple but glorious to be happy."
Wishing you all a wonderful day.
Disclaimer: I have not been sponsored to write this post. However this post does contain affiliate links. As an Amazon Associate I may earn a small commission if you use my link to click through to their website and make a purchase. It doesn't cost you anything and helps to support this website.