#meetmycolourcrush : Stitchsperation
Posted on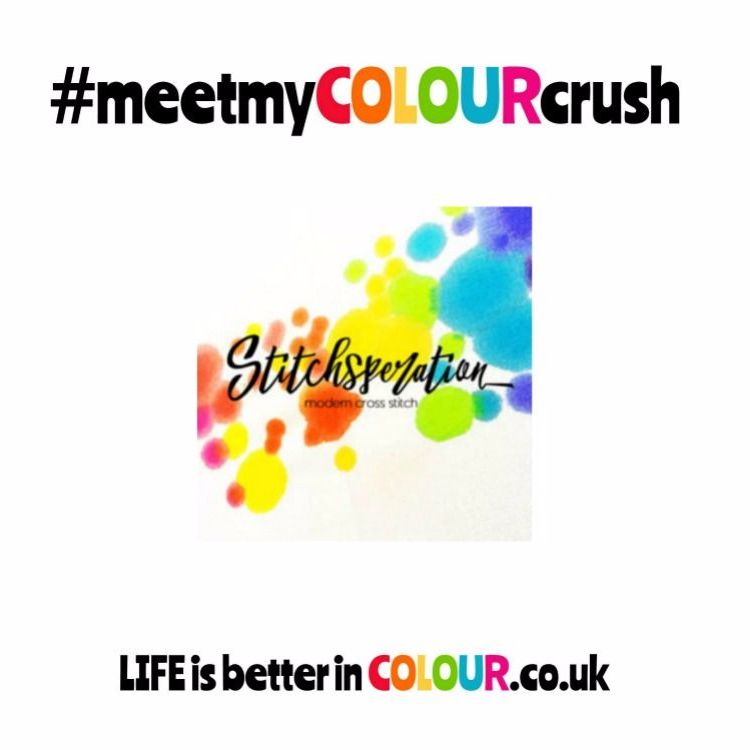 The first time I came across Stitchsperation on Instagram it was one of those instant follow moments... where you only have to see one picture to know that you're going to love everything that appears on that timeline... and nothing that Charlie has posted since that first moment has proven me wrong! With Stitchsperation you'll find colour, cross stitch, funky phrases and piles of positivity.
But don't take my word for it! Here's the latest #meetmycolourcrush interview where I ask Charlie all about her colourful cross stitch business.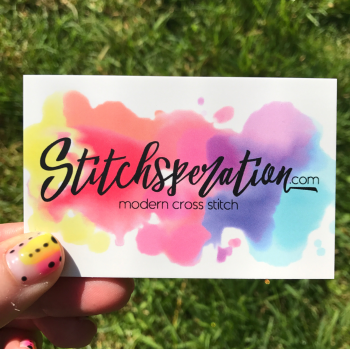 Tell me about your business...
"Stitchsperation combines my love of colour, typography, home decor, textiles and cross stitch into one.
I make modern cross stitch kits for people who want something a bit different, who aren't into bunny rabbits in wheelbarrow cross stitch patterns. For people who want something cool, bright, interesting and inspirational to hang up in their home, that THEY have made.
Instead of using lots of different colours of floss in my cross stitch designs, I decided it would be fun to have lots of different colours in the canvas instead. I paint every piece of fabric in every kit so no two are exactly the same.
My ultimate mission is to change people's perception of cross stitch, it is so often seen as an 'old fashioned' or 'granny' craft. It's great on so many levels, it's easy to do - I have taught complete beginners with no experience and in a short time they're rocking it - it's a great mindfulness tool, for relaxation AND you get a piece of art at the end of it!"
Do you have a favourite colour? What is it and why?
"Hmmm, I would love to say ALL the colours, but I do have a big soft spot for bright pink (the more neon the better) and yellow!"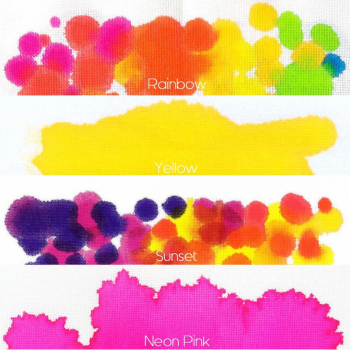 How do you choose which colours/colour combinations to use in your work?
"I've always had a good eye for colour, I try not to overthink it and just try things out. I'm not afraid to try putting random colours together that you might not normally think of. And I love a good rainbow so
all my kits are available with rainbow fabric
:) As long as the colours are vibrant then I'm happy!"
Have you always used colour in your work?
"Yes! Colour makes me so happy. I'm also a quilter and once made a quilt in various shade of cream, beige and grey. The quilt turned out to be amazing but by the end of sewing together 1217 pieces of fabric in these 'drab colours I was dying to get back to my usual brights!"
What's your favourite item that you currently sell - and why?
"My current
favourite item that I sell is probably my Christmas kits
. I've only just released them and I'm so pleased with how they turned out - particularly the 'modern' colourway in my favourites - neon pink, yellow and turquoise! Aside from loving the colours, I love Christmas!"
Who or what gives you colour inspiration?
"I get colour inspiration from all over. Sometimes from instagram or pinterest, other times from walking round a city and other times sitting in the back garden! Jo from
@adventuresandteaparties
is a huge colour inspiration, I loved doing her #colourmyeveryday challenge back in June, it really helped me see the colour all around."
Can you recommend any colour loving people for us to follow on social media?
"Yes! Obviously there's Jo, also
@joannehawker
,
@sweetiepips
- the best colourful jewellery.... I could go on, there are SO many awesome colourful people out there!"
What's your favourite hashtag?
How colourful is your day to day life outside your business?
"It's quite colourful. I have another textile based business which has taken a bit of a back seat while I've been working on Stitchsperation, that's also colourful but not quite to the same extent! I do try to surround myself with colourful things.. it's usually 'black, white or bright'!"
Do you have a favourite colourful item of clothing?
"I must admit that although I love my life to be colourful I'm not very good at wearing colourful clothing! I wear a LOT of black and grey. I do, however, have a super bright neon pink hoodie that I wear a lot, so I think that makes up for the rest! Oh, and bright lipstick!"
What one tip would you give people to help them live a more colourful life?
"Don't be afraid of colour!"
Where can we see/buy your work…
Fancy the chance to WIN your very own modern cross stitch?
To be in with a chance of winning, all you need to do is visit https://www.stitchsperation.com/ check out all the wonderful things that Charlie has for sale, then come back here and leave a comment on this blog post telling us what item you want to add to your wishlist! (don't forget to also leave your social media/email address so we can get in contact with you if you win!)
EDIT - GIVEAWAY NOW CLOSED - We gave everyone a number from 1 to 10 based on when the comments were received. (1 being earliest, 10 being latest) and used Random.org to generate a random number. The winner is comment number 7 from Tash! CONGRATULATIONS!! Your email address will be passed onto Charlie from Stitchsperation and she will be in contact to arrange UK delivery of your prize!
The small print...
The giveaway is open to anyone with a UK postage address. To enter, leave a comment on this blog post before 7pm BST on Monday 28th August 2017.
Only one entry per person.
The winner will receive their choice of mini cross stitch kit from the Stitchsperation website.
The winner will be chosen at random and announced across our social media sites just after 7pm BST on Monday 28th August 2017.
It is the winners responsibility to get in contact to acknowledge the win and pass on their delivery address before 7pm BST on Monday 4th September 2017. If no contact is made before this time we reserve the righ to choose another winner.
The item will be posted to the winners UK postage address free of charge by second class post.
This competition is not connected with or endorsed by Facebook/Twitter /Instagram