#meetmycolourcrush : IpDipDesign
Posted on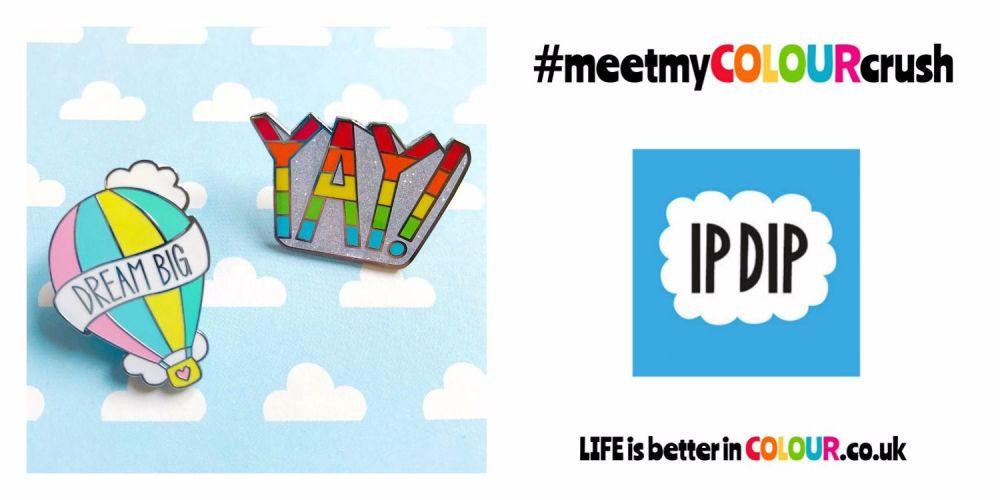 As soon as I decided I was going to write another #meetmycolourcrush blog post, I knew I had to get in contact with Laura from Ip Dip Design. Her colourful shop is a haven of positivity, filled with bright and cheerful paper goods and some truly awesome pins. If you like your motivational messages served with a sprinkling of rainbows - then you definitely need to take a look at her work!
Read on to find out more about her quirky designs and her colourful recommendations for the best Instagram accounts for colour lovers!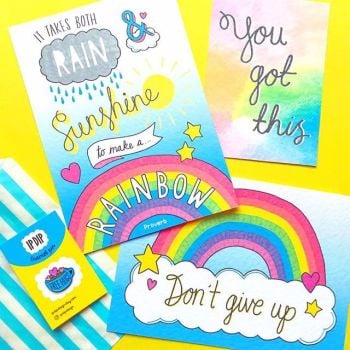 Tell us about your business...
"I launched my business 'Ip Dip Design' on my birthday back in April 2016. I now sell a range of fun and colourful goodies, including prints, postcards and enamel pins. My main aim has always been to design fun and colourful things that make people happy."
Do you have a favourite colour?
"My favourite colour is blue, but I pretty much love them all!"
How do you choose which colours/colour combinations to use in your work?
"I like using a combination of colours and shades within one design. I will usually decide at the start whether it will be rainbow-centric or one palette in particular and go from there!"
Have you always used colour in your work?
"I have indeed! I love the way that it can be used to express and evoke different messages and emotions. I'm almost certain that my love of colour and colour theory influenced my decision to become a Graphic Designer."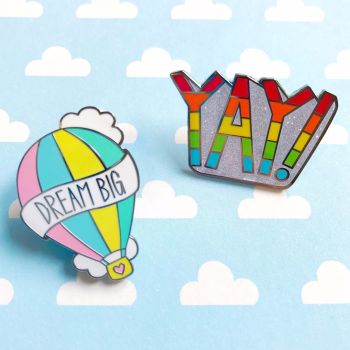 What's your favourite item that you currently sell - and why?
"Hmm, that's a tricky one! I think my current favourite(s) are my two latest pin designs. I love the rainbowtastic 'YAY!' pin with its glittery details and the pretty pastel nature of my 'Dream Big' pin - perfect for the (hopefully) sunny summer months!"
Who or what gives you colour inspiration?
"For me, colour inspiration can come from anywhere: The weather, an outfit - you name it! I've also loved becoming a part of the 'In Colourful Company' group on Facebook - perfect for discovering lots of happy new colourful things (and people!) One day I hope to join one of their colour walks as they look like so much fun!"
Can you recommend any colour loving people for us to follow on social media?
"Ooh there are so many awesome people to choose from! Some of my favourites on Instagram include:
@luckydipclub
- rainbowtastic surprises and subscriptions, run by the lovely Leona.
I could go on all day but those are the first few that spring to mind!"
What's your favourite hashtag?
How colourful is your day to day life outside your business?
"My day-to-day tasks aren't all that colourful, but I try to make up for that fact by dressing colourfully and surrounding myself with colourful things. Otherwise things can get a little grey!"

Do you have a favourite colourful item of clothing?
"This will be of no surprise to anyone following me on Instagram, but I LOVE my rainbow cardigan from Lazy Oaf. Super snuggly + rainbow stripes = The ultimate item of clothing (especially for a cold soul like me!)"
What one tip would you give people to help them live a more colourful life?
"Look for the colour in every 'grey' situation. It can make a heck of a difference!"
Where can we see/buy your work…
You can also find me on the following social media channels:"
I'd like to say a huge thank you to Laura for taking the time to answer my questions - I love getting to know even more about what inspires my fellow colour lovers!
And stay tuned - the next #meetmycolourcrush interview will be coming out in a few weeks time!